All About Us
Thank You for wanting to know about us, for visiting my site and for allowing me to share my dogs and experiences with you.
I'm a dog lover and Oregon Chihuahua breeder, I am not a professional dog trainer, you're welcomed and encouraged to take any advice or recommendations I offer and use it for working with and training your own dog.

OK, about us, my name is Pat Ellison and I live in the beautiful state of Oregon, with my husband and the last 3 of our 8 children.
I am an animal lover and have been my whole life. I've had a dog or a horse in my life since I was a child, and have spent years training and working with my horses.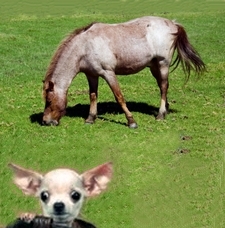 At present, our family includes 6 dogs, and 3 horses. I went from training and working with a very large animal, my horses, to a very small one, a Chihuahua.
Having 6 dogs in your house can be very chaotic at times, and keeping things somewhat under control can be a real challenge.
These dogs live indoors with us and share our space, unlike my horses who graciously share their outdoor space with us.


So, how did we end up with 6 dogs you ask?
When my husband retired we started looking for a small home business venture, it had to be something we both enjoyed, we looked at our life experiences and it involved raising children and animals. After almost 40 years of raising children that was definitely enough for me.
We wanted to keep our business small and you can't get any smaller than a Chihuahua.
Our breeding program

We have so much enjoyed these precocious little ones. Each has such personality its hard to believe this is a business for us.
Read about our Chihuahuas here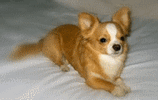 Then reality hit.

When I was training my horses, I knew from the beginning I had to be Alpha or I could easily get hurt. It was different (I thought) with a little 3 or 4 lb. dog, I just assumed they knew I was Alpha, well very quickly I was headed to the bottom of their little pack.
Chihuahua's are very intelligent, but also very stubborn, so I had to be extra vigilant, which was hard to do with so many running around.
There are a lot of good resources out there to help dog owners, I will try my best to pass these on to you.
I will share what I have learned and experienced, what has worked for me and hope you will tell others about my site.
My original intent for starting this site was to present Beautiful Chihuahua Puppies for sale, working with SBI (Site Build It) has been a easy, fun and PROFITABLE way to do it

---
Just remember, this site is not about us, it's about dogs, your dogs and mine, and how we as dog lovers can best care for them.
So if you think I'm missing something, just let me know. Drop me an email, to let me know what you would like to see on the site.
---