Learn Dog Massage
Learn dog massage, I did and what a difference it made to my Eskies daily life.
For those of you who have been following my site know we have a American Eskimo Dog American Eskimo Dog "Little Bit" she is 13 years old and lately we have noticed she is slowing down and not able to jump and keep up with the other dogs like she used to.
Our vet told us "it's arthritis and comes with age". I know all about age related problems, I'm 62 and have a few of those slow days myself.
I started to think about what helps me when I get stressed and over tired. I know a good relaxing rub down therapy helps me so I started looking for help and found a wonderful site where I could learn some techniques.
These canine therapy techniques I learned also helped calm and reassure one of my more fearful puppy, this was very rewarding for both of us. I have added this to my socialization time, it has proven to be very useful as well as being a great bonding tool.
Petting With Added Benefits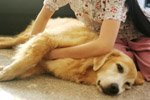 In less than 60 minutes, you can start massaging your dog the proper way, and start him or her on a lifelong journey of therapeutic and healing wonders.
Our pets love the attention from petting. It's like petting with added benefits. Zoe Gan, a Certified Dog Massage Therapist and expert practitioner of this healing art offers a breakthrough training course.
You'll receive complete professional lessons immediately, and be able to watch it and view it over and over anytime, 24 hours a day, 7 days a week from the comfort of home.
You risk nothing, with the money back guarantee, there's no way you can lose. Free 60 days examination of Dog Massage Secrets.
So, why not learn from a professional… go there now and see how your dog will benefit
---
Return from Dog Massage to Chihuahua Breeder Home
Dog Health