Chihuahua For Sale
Chihuahua For Sale. We raise Long hair, Short hair, Applehead and Deer, very loving and intelligent little companions.
Chihuahua puppies born March 3, 2012. There are 2 Boys and 1 Girl.
The boys are Fawn and Chocolate, the girl is White long hair with Fawn ears.
This litter is from Tipsy 2 Spot and Sir Rascal.
These little ones have all been placed in their new homes now, and have had their first 2 vaccinations and de-wormed. I guarantee all puppies from Patz Dogs to be healthy and well socialized.
They are CKC registered, raised in our home with lots of hands on spoiling and loving.

Female Long Hair
Nick name "Diva"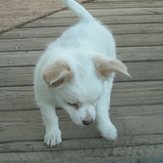 Beautiful White long hair with Fawn ears. She is very cuddly and loving, as well as entertaining.
*******************
"Diva" has a new forever home with Gian Christmas and her family in Klamath Falls Oregon.
Congratulations!! Let the puppy training begin!!
********************
---
Male Chihuahua For Sale
Nick name "Rufus"
Adopted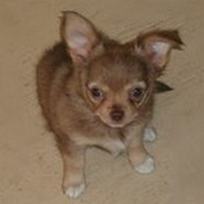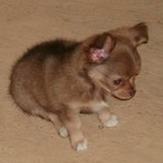 He has a long hair coat, very energetic and playful but also loves to cuddle.
Mature weight should be in the range of 5 to 5 1/2 pounds. He will be a wonderful companion and pet.
Sorry Rufus is no longer available.
He is now enjoying his new home with the Gomez family of Tulelake CA



Nick name "Romeo"
Adopted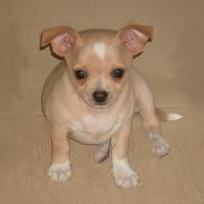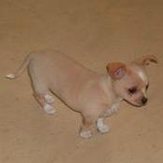 A real sweetheart. Fawn color short hair coat with White markings, the Marking on his head is in the shape of a heart which thrilled my grand daughter, he will be a fun loving family pet or companion.
Adopted Our Romeo is now with his new family;
the MacDonalds of Sprague River OR


---
Chihuahua's as well as many of the toy breeds are subject to an serious condition known as Hypoglycemia (low blood sugar) due to stress, such as transitioning to a new home. One sign of this may be extreme shaking and listlessness
If you have concerns about a new puppy you just purchased from patz dogs (or anywhere) please don't hesitate to give me a call 541-533-2400 ask for Pat
Other information for new puppy owners you might find helpful: Puppy Basics
---
Our last litter for 2012 is due in June. If you would like to be contacted please send me a message in the contact box below. Bookmark this site and check back to see what will be available.
You might consider being put on my list as they do go quickly.
Just let me know you're interested by sending me your information in the contact us box below, Male, Female, long hair, smooth coat applehead or deer.
I'll reply to let you know I got your info.
If you would like more information regarding our Chihuahua for sale, please contact me using the form below.
Payment and Shipping Information
I do not guarantee our puppies to be show quality although many are, that is something for your own due diligency. I only guarantee you will receive a happy, loving well socialize pet.
All our Chihuahua for sale are absolutely adorable, each is house raised and socialized around children and other pets.
Our Puppies are CKC registered. Current on Vaccinations and Guaranteed Healthy.
Patz Dogs - an OR Chihuahua Breeder is located in:
Chiloquin, OR
You are Welcome to visit us, please give us a call first
# 541-533-2400
If you're looking for an older Chihuahua, ask, occasionally we have some available.
Back ToTop of Chihuahua For Sale


---