Famous Chihuahuas. How Many Do You Recognize?
Famous Chihuahuas list, some recognizable, and some maybe not so recognizable but nonetheless Famous.

Have you ever wondered about those little 4 leggers owned by 2 leggers?

The Chihuahua has been a very popular dog breed for many many years with very little credit given them (I might add).

I know there are many more that can be added to this list.
Did you know Marilyn Monroe owned a Chihuahua, although after a great deal of research I have been unable to learn what she named him.
Some are famous some are infamous…
Coco, the dog featured on the television series Dog Whisperer and owned by Cesar Millan
Coco, Donna Cabonna´s dog from the Disney Channel Original Series That's So Raven
Enrique, Hector Con Carne's pet chihuahua from Evil Con Carne
Madame Shirley the Medium is an old-fortune teller chihuahua featured in a TV Show Cartoon, Courage the Cowardly Dog
Mimi, Sharon Osbourne's chihuahua

Pepito, Xavier Cugat's chihuahua immortalized in the children's book Pepito the Little Dancing Dog: The Story of Xavier Cugat's Chihuahua

Ren Höek, of Ren and Stimpy fame
The Spooky Chihuahua from Invader Zim
The Taco Bell chihuahua
Tinkerbell Hilton and Bambi, Paris Hiltons Chihuahuas. Tinkerbell is the "author" of "Tinkerbell Hilton Diaries"
Tito from Oliver & Company
Geraldo, Max Shreck's movie star Chihuahua in Batman Returns
Wheely Willy, a paraplegic chihuahua from Long Beach, California who has become a celebrity as the subject of two bestselling children's books
Mammoth Mutt from the cartoon series Krypto the Superdog
Samuel Witwicky's fiesty and diarrhea-prone chihuahua named Mojo from Transformers
Celine, Mr G's pet chihuahua from the ABC's tv series "Summer Heights High"
Lou, a chihuahua featured on the television show The Soup
---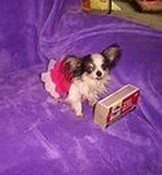 Once again Boo Boo the Chihuahua is crowned the Guiness Book record holder as the worlds smallest living dog.
She is a long haired female Chihuahua owned by Lana Elswick of Raceland, Kentucky.
Boo Boo, born on April 15, 2006 is 4 inches tall, 6.5 inches long and weighs 24 ounces.
Congratulations to Lana and Boo Boo.


---
"famous chihuahua®" is a registered trademark under famouschihuahua.com,"
---