Golden Retriver
A Loyal Family Companion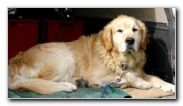 The Golden Retrievers temperment is gentle, intelligent, kind and loyal. They are popular family dogs with their affectionate and loving spirit. Unlike many other breeds they do not demand continuous attention from their family or handler.

They are friendly with children, strangers and other dogs. If your looking for a dog that is easily trained and obedient, this is a good breed.


Potential owners of this breed usually have various goals.
Some want a reliable hunting partner
Some a competitive show dog
Some just simply want a healthy and personable family pet
Regardless of what your goals may be regarding your dog, your first priority should be choosing one that is as healthy as possible.
It's not hard to find a Goldie, but if you want a good one that represents the breed at its best, you need to choose your source carefully.
Visit my link partner at Golden Retriever Magic and get complete first hand information on this wonderful breed.
Golden Retriever Magic

Welcome to our in-depth site about Golden Retrievers and the magic they bring to our lives. Here you will find info on history, training, videos, pictures, health, grooming,

facts

,

puppies

,

breeders

,

naming

, and much more. Don't forget to take the celebrity quiz and check out the slide show.
---
Size: Medium Height: 51 - 61 cm (20 - 24 inches)
Weight: 27 - 37 kg (60 - 80 lb)
Life Span: 12 years

AKC Group: Sporting

It blends itself to the family activities, but doesn't need more exercise than the average dog. This breed enjoys retrieving, swimming, obedience training and agility sports.

These dogs need to be kept both physically and mentally healthy, keeping them busy is important.
History
Country of Origin: England
In the 1860s, Lord Tweedmouth in Scotland purchased an only yellow puppy from a litter of black Flat Coated Retrievers. His aim was to breed retrivers of this lighter color. He crossed this yellow dog with a liver Tweed Water spaniel (a breed that was hardy, intelligent and able to retrive game in all sorts of weather).

Tweedmouth's gamekeepers recorded all matings from 1867 onwards and evaluated the results.
As the conformity of this dog became established, these yellow retrievers became a breed in their own right. First shown in 1908 and recognized by the English Kennel Club in 1913.
---
Return to Choosing a Dog

Return to Home Page